Happy New Year!!! 2014 is officially here now peeps! Thank you to all of you for a fantastic 2013. It was a really busy year here for me at As the Pages Turn. I am looking forward to the 2014. So many more book boyfriends to discover this upcoming year. I can't wait. Yay!!!
I wanted to THANK you all who have stuck with me since 2010. I heart you all and appreciate you so much. I heart all the new followers. I want to THANK each and every one of you for visiting my blog or my Facebook page. It's very much appreciated.
Now let's start off 2014 with a bang. What a better way to start it off then with a GIVEAWAY, right? So without further ado check out what's up for grabs! It's a combination of some of my favorite authors of all time, old reads that I loved, new finds from 2013 and upcoming reads from 2014! Good luck!
DETAILS:
41 possible winners

Be sure to check what's US only and what's International prizes

Giveaway ends 01/04/2014 at 11:59 PM CST

Winners will be notified via e-mail 01/11/2014. Be sure to add my e-mail address asthepagesturn@gmail.com to your safe list.

Once the e-mail goes out you will only have 48 hours to claim your prize. Another winner will be chosen if I don't hear back from you.
Prize
Author
Format
Open To

(2) Bully & Until You

Penelope
Douglas
Signed
Paperback

International

(1) Hopeless & Losing Hope

Colleen
Hoover
Signed
Paperback

International

(1) Captive in the Dark, Seduced in the Dark & Epilogue:
Dark Duet
C.J.
Roberts
Signed
Paperback

International

(1) Wanderlust

Skye
Warren
Signed
Paperback

International

(1) On the Island

Tracey
Garvis-Graves
Signed
Paperback

International

(1) Vendetta

Autumn
Karr & Sienna Lane
Signed
Paperback

International

(1) REAL (signed copy), MINE & REMY

Katy
Evans

Paperback

US
only

(1) Wallbanger & The Unidentified Redhead

Alice
Clayton

Paperback

US
only

(1) Noah, Gio, Hector & Abel

Elizabeth
Reyes
Signed
Paperback
US
only

(1) Fallen Too Far, Never Too Far & Forever Too Far

Abbi
Glines

Paperback

US
only
(1) The Chief, The Hawk, The Ranger, The Viper, The Saint, The
Recruit and The Hunter
Monica
McCarty
Signed
Paperback
US
only

(1) The Perfect Play, Changing the Game & Taking a Shot

Jaci
Burton

eBook

International

(1) Lord of Darkness & Duke of Midnight

Elizabeth
Hoyt

eBook

International

(2) Backlist of Kele Moon books

Kele
Moon

eBook

International

(2) Chasing Serenity

Eden
Butler

eBook

International

(1) Arouse, Allure & Awaken

Nina
Lane

eBook

International

(2) Bully & Until You

Penelope
Douglas

eBook

International

(2) Tears of Tess & Quintessentially Q

Pepper
Winters

eBook

International

(1) Killing Sarai & Reviving Izabel

J.A.
Redmerski

eBook

International

(2) Night Owl

M. Pierce

eBook

International

(2) Vendetta

Autumn
Karr & Sienna Lane

eBook

International

(1) The Gamble, Sweet Dreams, Lady Luck, Breathe & Jagged
(Colorado Mountain series)
Kristen
Ashley

eBook

International

(1) Motorcycle Man, Own the Wind & Fire Inside

Kristen
Ashley

eBook

International

(1) Only for You & Pieces of You

Genna
Rulon

eBook

International

(1) Fear of Falling

S.L.
Jennings

eBook

International

(1) Riding the Storm, Unleashing the Storm & Seduced by the
Storm
Sydney
Croft

eBook

International

(1) Cowgirl Up and Ride, Tied Up, Tied Down & Branded as
Trouble
Lorelei
James

eBook

International

(1) Backstage Pass, Rock Hard, Hot Ticket, Wicked Beat &
Double Time
Oliving
Cunning
Kindle
copy

International

(1) Try

Ella
Frank

eBook

International

(1) Surviving Raine

Shay
Savage

eBook

International

(1) Aftermath

Cara
Dee

eBook

International

(1) Animal Magnetism & Animal Attraction

Jill
Shalvis

eBook

International

(1) Bound by Night & Reaver

Larissa
Ione

eBook

International

(2) The Marriage Diaries Volume 1-4

Erika
Wilde

eBook

International

(1) Crash Into Me & Fall Into Me

K.M.
Scott

eBook

International

(1) Untangle Me & Kayden: The Past

Chelle
Bliss

eBook

International

(1) With You & Torn from You

Nashoda
Rose

eBook

International

(1) Weak for Him

Lyra
Parish

eBook

International

(1) Double Full

Kindle
Alexander

eBook

International

(1) Collide

Riley
Hart

eBook

International

(1) Beyond Series Bundle (BEYOND SHAME, BEYOND CONTROL and
BEYOND PAIN)
Kit
Rocha
Kindle
copy

International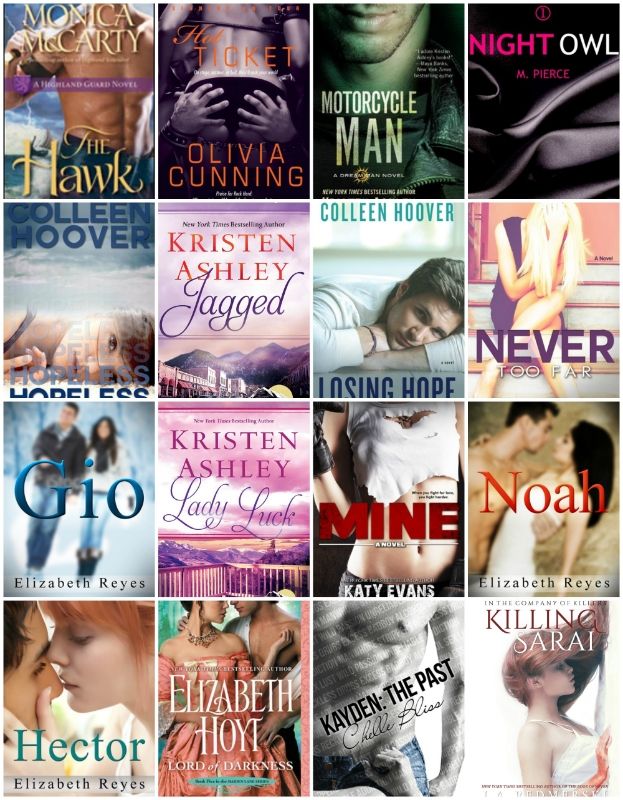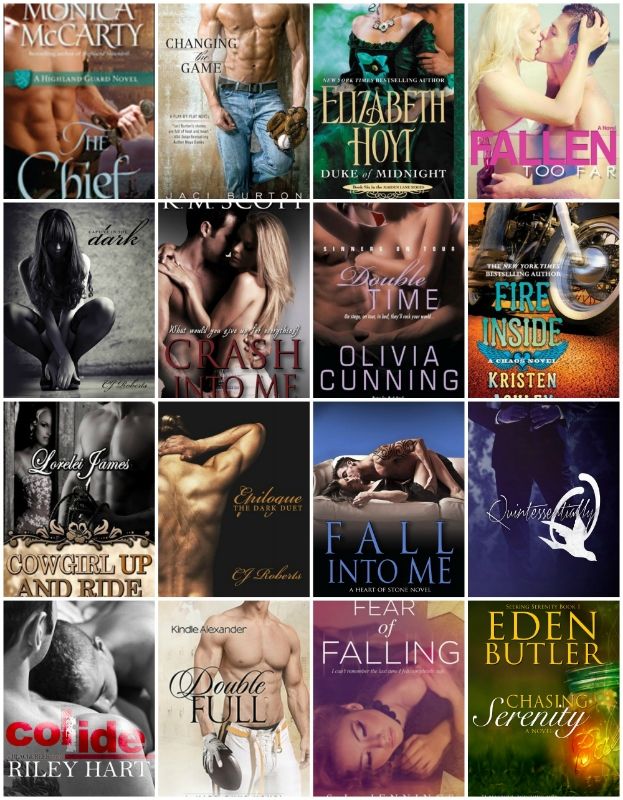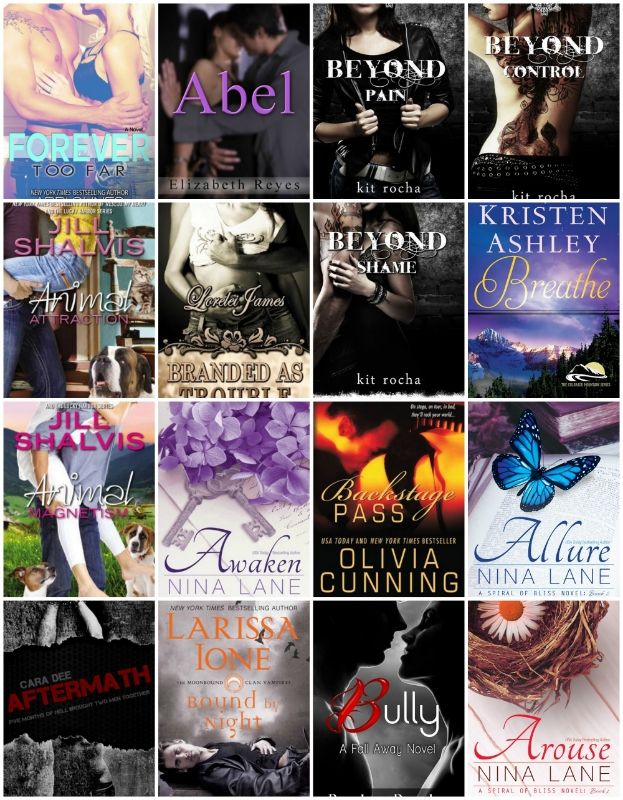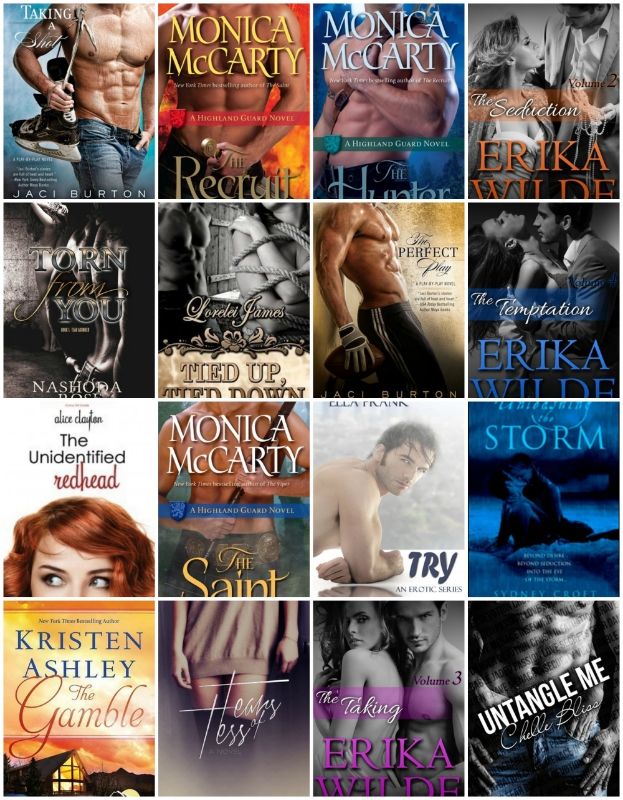 a Rafflecopter giveaway